Young Da'iyah (YD) Registration
Register & become a Versatile Muslimah today!
What Is Young Da'iyah?

Being a woman in this day and age is frustratingly confusing. We are being told so many different things, what to do, what not to do... Islam is re-interpreted for us in different shades and thus, as a result, we get confused.

Without a shadow of a doubt, a woman can take up innumerable roles, alongside the many responsibilities she already has.

But the question stands: what is her place in society? How can she contribute to the goodness of her community? Most importantly, what does it mean to be a Muslim woman?

We know that you are not just a woman, but a truly VERSATILE one at that! We know that you are not limited to one role; we know that you are not restricted to one position; we know you have hidden potential inside you!

Hence why i3 Institute is excited to announce the launch of their signature program for women only:


"Young Da'iyah"



A unique program that will free you from the burdens placed on you by society just for being a woman;
a one of its kind program that will unleash the potential within you;
a truly empowering program that will develop you into a liberated, Muslimah leader!

This program consists of 2 hours of interactive class per week in a fun, engaging and non-judgmental environment where you will not only get to build sisterhood with other sisters, connect with your community but also learn the fundamentals of your deen while liberating yourself from the standards of modern society.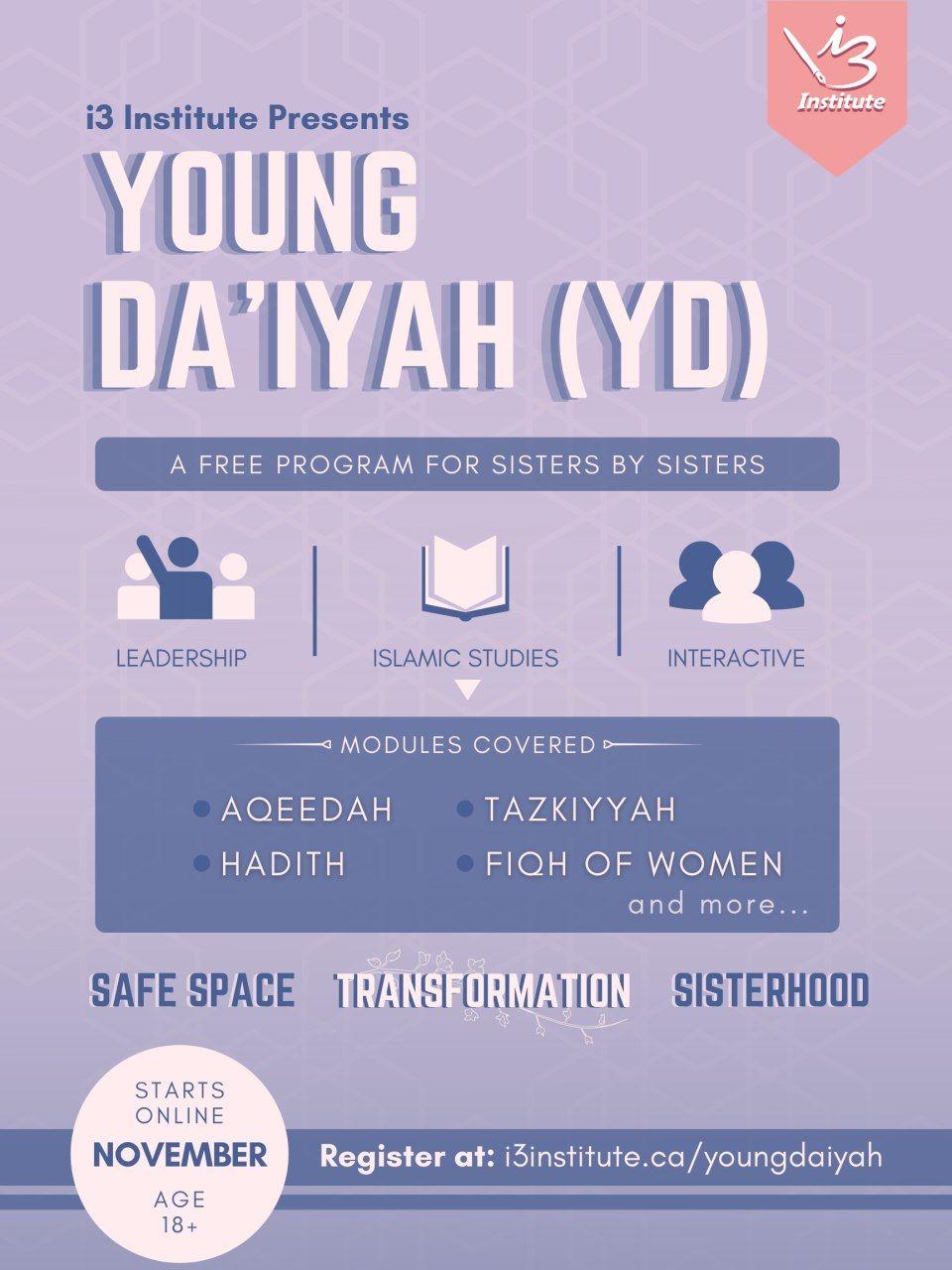 Frequently Asked Questions
timer
How much time commitment is required from me as a student?
The time commitment is only 2 hours per week for 8 weeks, per module.
money_off
How much does the whole program cost?
Alhamdulillah thanks to our beloved Shuyukh's philosophy, we'd say it is quite reasonable ... it is absolutely free! :)
book
Does this program cover the basics?
Absolutely. This program assumes no prerequisite knowledge and will teach you the basics of Islam and the Islamic way of thinking about life, from scratch.
check_box
Alright I'm sold, so how do I register?
See below!
.
.